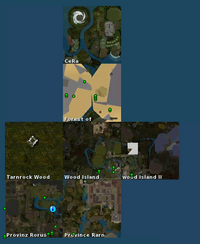 A316 or ZoHa is a Microcontinent located at Coordinates 910-911/1249-1251, Grid Sector I12, Northen Ocean, inside A063 Sim Cluster.
There are many sims inside A063 Sim Cluster sharing the name ZoHa, including all sims in this microcontinent. The formation of A316 is strongly connected with the formation and evolution of A063.
Structure
Edit
ZoHa is made of 5 sims and has an almost compact shape.
Geography
Edit
Land is usually flat and resembles a Tropical Beach Paradise. The highest population density is found in a land office, at the headquarters of the land estate.
Land Status
Edit
There is a lot of land for sale. Except for a parcel used by the land corporation as an office, there is no protected land.
Sim Examples
Edit
ZoHa Islands E
ZoHa Islands N
ZoHa Islands
ZoHa Islands S
See Also
Edit
Ad blocker interference detected!
Wikia is a free-to-use site that makes money from advertising. We have a modified experience for viewers using ad blockers

Wikia is not accessible if you've made further modifications. Remove the custom ad blocker rule(s) and the page will load as expected.