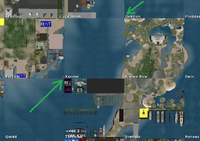 Xander is a sim located in Nautilus, the Northermost sim of Dire Strait. It allows vehicles to travel between Dire Strait and Nautilus North-East Coast.
Geography
Edit
Xander is entirely Protected Land. It is over 90% covered by water. Usually, water is deep enough for any ship, but there are places where only boats can sail. It is connected to other parcels of protected land only by its corners, in South-West and North-East. This is a major problem for incoming traffic, because there is not enough land to allow vehicles to pass. However, land owners from the corner of nearby sims usually allow traffic to enter their land, to continue the route.
Xander is a crucial point along Nautilus Strait Project. The only alternative way that can be used for ships and airplanes is by a complex route through Seychelles Subcontinent.
Automated vehicles use Xander as a bypass over Nautilus. Both Yava Script Pods and SLGI Fleet move along this passage route and teleport across sim corners.
See Also
Edit
Ad blocker interference detected!
Wikia is a free-to-use site that makes money from advertising. We have a modified experience for viewers using ad blockers

Wikia is not accessible if you've made further modifications. Remove the custom ad blocker rule(s) and the page will load as expected.