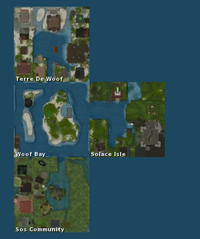 A291 is the transitory name of Woof Microcontinent, a Microcontinent identified at Coordinates 854-855/1346-1348, Grid Sector H13, Northern Ocean.
According to Gridsurvey, composing sims were created during 2014.
Strcture
Edit
A291 is made of 4 sims placed in a non-compact structure.
Geography
Edit
There is both water and dryland on all 4 sims. Ground texture resembles grass. There are not mountains, but large hills and coastal plains. Building style vary from open air to castles.
Land is ranked Adult.
Sim Examples
Edit
Woof Bay
Solace Isle
Terre De Woof
Sos Community
See Also
Edit
Ad blocker interference detected!
Wikia is a free-to-use site that makes money from advertising. We have a modified experience for viewers using ad blockers

Wikia is not accessible if you've made further modifications. Remove the custom ad blocker rule(s) and the page will load as expected.