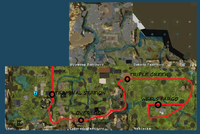 Western Railway is located in Western Microcontinent. It is a single line railway with big rails and wooden slippers. Since it uses a Guide, any classic Heterocera train can ride along it.
The railway starts from Utah sim, at sim border. Probably, in past, it was even longer. Then, it stretches South over the plain. After a small stop, the railway climbs over the mountains, finding its way over cliffs and bridges. Then, it reaches another plain. Finally, in Nebraska, it makes a large loop through a pine forest.
The numbers below are distances measured in km. Estimated error is 5% or 20 meters:
Utah End:                  0.00
Terminal Station:          0.11
Overlook Station:          0.33
Triple Creek Colorado:     0.69
Nebraska Junction:         1.03
Weels Fargo:               1.15
Nebraska Junction:         1.39

Transportation
Edit
There is no automated transportation. A train is sitting close to Weels Fargo. Any Heterocera train can use this railway, since it uses a guide.
See Also
Edit
Ad blocker interference detected!
Wikia is a free-to-use site that makes money from advertising. We have a modified experience for viewers using ad blockers

Wikia is not accessible if you've made further modifications. Remove the custom ad blocker rule(s) and the page will load as expected.