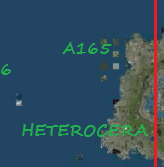 The Sim Group A165 includes 6 sims, very easy to find on map, placed in West of Heterocera. They are close to continental shores and far from other sims. Their coordinates are 1020-1033/1014-1025, Grid Sector is J10, ocean is Little Pacific Ocean.
Because A165 is so close to a mainland continent, its component sims were listed many times by various map authors of Heterocera continent. And also, because they are nearby, people from the continent came often to visit these sims.
Geography
Edit
Solaris is a sim with smooth land, with many shops and a road system.
Noblesse has a central mountain of 55 meters high and a laguna with forests.
Regalis is a tropical beach sim with a boat as teleport point.
Sagada is also a beach sim, with a lot of vegetation.
Aqua Vida was closed in time of our survey.
Vista Real is a rocky island.
Land Status
Edit
Majority of sims are rankes moderate, but Regalis is adult and Noblesse is geneeral. They are owned by two estate owners. Only on Vista Real we detected parcels with restricted access.
Sim Examples
Edit
Solaris
Noblesse
Sagada
Vista Real
See Also
Edit
Ad blocker interference detected!
Wikia is a free-to-use site that makes money from advertising. We have a modified experience for viewers using ad blockers

Wikia is not accessible if you've made further modifications. Remove the custom ad blocker rule(s) and the page will load as expected.