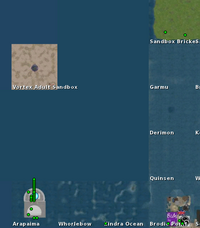 The Vortex Adult Sandbox might be considered an Isolated Sim very close to Zindra Continent. Its coordinates are 1797/1200, that corresponds to Grid Sector Q12. Its temporary name is A206. Unlike any other grid structure on the map, it cannot be included into any ocean.
Creation of this sim is linked to the history of Zindra itself. Gridsurvey shows that it was created in 2011. SLGI team decided to list it in autumn 2013.
Structure & Geography
Edit
This sim is composed of a small landing area (a parcel where you can get informations about Zindra) and a large sandbox (rest of land). This sim is Linden-owned (mainland).
Sim Examples
Edit
See Also
Edit
Ad blocker interference detected!
Wikia is a free-to-use site that makes money from advertising. We have a modified experience for viewers using ad blockers

Wikia is not accessible if you've made further modifications. Remove the custom ad blocker rule(s) and the page will load as expected.