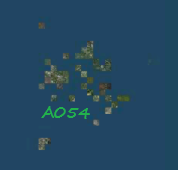 The Teaching Sims are a Sim Cluster. It has the transitory name A054 and is the only structure inside Grid Sector M13. It is placed inside Eastern Ocean. Coordinates are 1370-1384/1374-1389.
This sim cluster is very isolated and forms the Remote North West Sea. It is separated by more then 100 void sims to any nearby structure. Even if there are a few internal microcontinents, SLGI team preferred to use a single transitory name for the entire sim cluster.
Structure
Edit
A054 is a complex sim cluster, consisting of a few internal microcontinents:
ECU Microcontinent - 11 sims, in West
ClevelandPlus Microcontinent - 6 sims, in NW
NMC Microcontinent - 5 sims, central
Teaching Sim Cluster - 11 sims, South
Deakin Microcontinent - 3 sims, far South
Unassociated Sims - 11, mainly in West
Total = 44 sims.
Geography
Edit
There is a level of elevation for each sim. There are hills and plains. Interesting are the buildings that can be found here. Roads are also present.
These sims are made for learning and teaching.
Land Status
Edit
Rating is always general. Land is owned by teen estates (like an university). Access is not allowed for public in all sims.
Sim Examples
Edit
ECU II
Ars Simulacra
University of Delaware
Teaching 6
See Also
Edit
Ad blocker interference detected!
Wikia is a free-to-use site that makes money from advertising. We have a modified experience for viewers using ad blockers

Wikia is not accessible if you've made further modifications. Remove the custom ad blocker rule(s) and the page will load as expected.