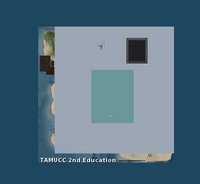 Its temporary name is A200. The sim's complete name is TAMUCC 2nd Education. Coordinates are 1162-1330, Grid Sector K13, Eastern Ocean.
TAMUCC was discovered by SLGI team in 2014 and was the 200th grid structure identified.
Structure & Geography
Edit
Unfortunately, access is restricted, so there is no available data for this place. Baed on the name, the land should be owned by a teen estate.
Sim Examples
Edit
See Also
Edit
Ad blocker interference detected!
Wikia is a free-to-use site that makes money from advertising. We have a modified experience for viewers using ad blockers

Wikia is not accessible if you've made further modifications. Remove the custom ad blocker rule(s) and the page will load as expected.