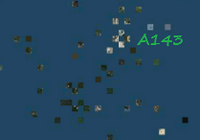 SkyBeam is a Sim Cluster structure found on grid map at Coordinates 849-872/1157-1176, Grid Sector H11, Western Ocean. Its transitory name is A143.
Earlier surveys by SLGI team found a Microcontinent located here. The microcontinent received the name SkyBeam and the transitory name A143. However, the summer 2015 survey found no microcontinent within the area.
SkyBeam was not actually a microcontinent, but a group of 3 microcontinents, in contact one each other by their corners. All 3 microcontinents offered a high variety of land. In West, there were many small residential islands. Mountains, hills and plains could be found anywhere, even a sandbox existed. A maximum Altitude was recorded at 93 meters. In SkyBeam Phoenix there was a small railway.
Structure
Edit
The microcontinent is made of 40 sims. They are placed at random. Compared to nearby Unassociated Sims, the sims that make A143 are denser and have a dark green color. The majority of sims are still wearing SkyBeam in their name.
In North, there are a few sims that have a different color.
Geography
Edit
The sims in North, with lighter color, resemble a Tropical Beach Paradise.
The sims in South (the largest sim population) have a darker texture and offer a high variety of Geographic features: mountains, hills, plains, islands, plateaus. They also offer a big variety of buildings.
Land Status
Edit
There are two estates here: one in North and one in South. In North, land is more residential, while in South, land has a different status.
Sim Examples
Edit
Valhalla
SkyBeam Stowaway
SkyBeam Getaway
SkyBeam
See Also
Edit
Ad blocker interference detected!
Wikia is a free-to-use site that makes money from advertising. We have a modified experience for viewers using ad blockers

Wikia is not accessible if you've made further modifications. Remove the custom ad blocker rule(s) and the page will load as expected.