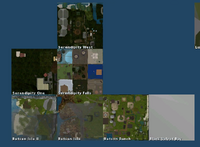 A324 is the transitory name for Serendipity - Betson, a Microcontinent located at Coordinates 971-974/1081-1083, Grid Sector I10, Little Northern Ocean.
A324 was identified by SLGI team in July 2015. However, data from Gridsurvey confirms that the microcontinent was formed far earlier and suffered many changes.
Structure
Edit
A324 is made of 7 sims. the Northern sims share the common name Serendipity, while the Southern ones share the name Betson. There is one sim in South, named Black Velvet Bay.
Geography
Edit
There are no significant differences between Geography of the two parts of the microcontinent. All land is a plain, sometimes with smooth hills. In some places, land is perfectly flat. In others, there are a few rivers. A network of paths ensure access to many parcels.
Vegetation is present. There are trees and a few species of grass. Ground texture also resembles grass.
Buildings are usually middle-age themed, but this is not a rule. There are also a few shops, clubs and places to hang around.
Land Status
Edit
Some land is Gorean. This means that residents visiting the microcontinent should have the needed clothes available. No Land With Restricted Access was detected. Also, there are many paths, but no Protected Land. Residents allow visitors to pass through.
Sim Examples
Edit
Serendipity Falls
Betson Ranch
Black Velvet Bay
Serendipity West
See Also
Edit
Ad blocker interference detected!
Wikia is a free-to-use site that makes money from advertising. We have a modified experience for viewers using ad blockers

Wikia is not accessible if you've made further modifications. Remove the custom ad blocker rule(s) and the page will load as expected.