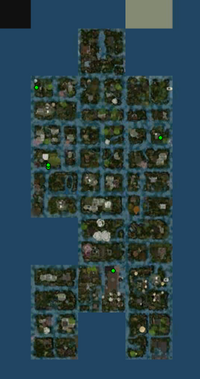 Scotland or A017 is a Microcontinent located in Grid Sector E10, Far West Ocean, at Coordinates 522-524/1035-1041.
It was discovered by SLGI team in spring 2013, when it had 12 sims. Since then, it has slowly increased in size. At that time, there was a lot of land available for sale.
Structure
Edit
This microcontinent is formed of 17 sims. It is 7 sims long (North-South) and only 3 sims wide (East-West).
Geography
Edit
Unlike real Scotland, this land is more flat, with a lot of water channels (channels exist in real Scotland too) and long hills along them. Buildings are Scottish-themed. There are not only homes, you can also find castles and a big port. Vegetation is also present, with a lot of trees.
Ground texture changes according to seasons.
Transportation can be done by water or by walking through parcels. There are no roads. A large teleport system is available to all sims.
Land Status
Edit
Land is owned by a single estate. Land With Restricted Access is rare.
Sim Examples
Edit
Scotland Inchmurrin
Scotland Inchcruin
Scotland Ross Island
Scotland Inverbeg
See Also
Edit
Ad blocker interference detected!
Wikia is a free-to-use site that makes money from advertising. We have a modified experience for viewers using ad blockers

Wikia is not accessible if you've made further modifications. Remove the custom ad blocker rule(s) and the page will load as expected.