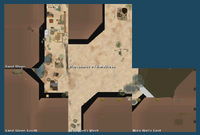 A318 is the transitory name for Sand Sleen, a Microcontinent located at Coordinates 990-992/1188-1189, Grid Sector I11, Little Northern Ocean.
According to Gridsurvey, this grid structure is very old, dating back to 2008. It is possible that for a limited time it vanished from the grid or that it was confused with A184 - Desert Microcontinent. SLGI team added this microcontinent on the list in July 2015.
Structure
Edit
It is made of 5 sims and has an almost compact shape.
Geography
Edit
Land is covered by desert. There are a few mountains or hills, or most probably sand dunes. A few palm trees can be found in several places. Water is rare and very precious.
Buildings vary from luxurious Arabian palaces, with central fountains, to caravan stops and a lot of walls. There are also sky platforms.
Land is not designed for Arabic communities, but for Gorean people (see Gorean sims). Still, Sand Sleen is hosting some of the rare category of Desert Sims on the grid.
There is a lot of uninhabited land.
Sim Examples
Edit
Sand Sleen South
Wastelands of SandSleen
Nine Wells East
Sand Sleen
See Also
Edit
Ad blocker interference detected!
Wikia is a free-to-use site that makes money from advertising. We have a modified experience for viewers using ad blockers

Wikia is not accessible if you've made further modifications. Remove the custom ad blocker rule(s) and the page will load as expected.