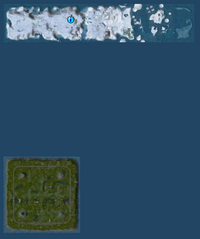 Premium Sea is a Linden-owned (mainland) Sim Group placed in far South of the map. It also has the temporary name A176. Its Coordinates are 1010-1014/479-484 and it can be found in Grid Sector J4, Southern Ocean.
SLGI team listed Premium Sea first time in April 2013, while trying to define the Oceans for the first time. Later, in autumn 2013, it was reclassified as a Sim Group and got the transitory name A176.
Position
Edit
A176 is the most Southern grid structure, close only to Premium South 3 and separated from the center of the grid by huge areas of Void Ocean.
Structure & Geography
Edit
Premium Sea is composed of two groups of 4 sims: Premium Railway and Premium Snowlands. Premium Raiilway has the form of a square. All its sims are connected with this railway and are surrounded by Water. There is a high place where premium gifts can be achieved. There are a few rivers and the vegetation is rich.
Premium Snowlands are made of 4 sims connected in a sharp line. Land has various elevation levels, so there are a few mountains/ They are covered with ice and the sky is dark-blue, like the arctic day-in-night. Water is also present and on water there are a few icebergs. There are a few interesting buildings with plasma doors.
Land status
Edit
Premium Sea is all Linden-owned and is one of the places where only premium residents are allowed. All land is Protected Land.
Sim Examples
Edit
Vernier
Saminekim
Byrd
Atroth
See Also
Edit
Ad blocker interference detected!
Wikia is a free-to-use site that makes money from advertising. We have a modified experience for viewers using ad blockers

Wikia is not accessible if you've made further modifications. Remove the custom ad blocker rule(s) and the page will load as expected.