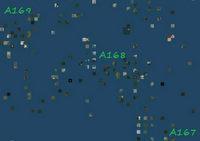 Phoenix or A168 is a Sim Cluster found North West of Heterocera, at Coordinates 929-949/1060-1080, Grid Sector I10, Little Northern Ocean.
Phoenix was identified by SLGI team in early 2014, but it is far older. At that time, only 25 sims were included in the sim cluster.
Structure
Edit
It is formed of a central 25 sims, all of them sharing the word Phoenix. Near them, there are at least 15 sims (resulting a total of 40 sims) with other names.
Geography
Edit
Phoenix is a mixture of all types of land, including residential, shopping, wilderness, castles, glass buildings, also for adult staff in the form of a combat sim. Land is usually flat, terraforming is rare, maximum Altitude is below 60 meters. People should beware that people here don't accept visitors on their land. One sim that might worth a visit is Wildwoods. All land is owned by a single estate.
Sim Examples
Edit
Phoenix Mystified
Phoenix Enlightened
Sensation Isle
Isle of Return
See Also
Edit
Ad blocker interference detected!
Wikia is a free-to-use site that makes money from advertising. We have a modified experience for viewers using ad blockers

Wikia is not accessible if you've made further modifications. Remove the custom ad blocker rule(s) and the page will load as expected.