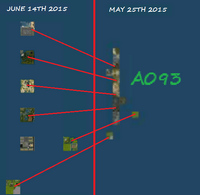 A093 is the temporary name of a grid structure that from time to time is listed as a Sim Group, aMicrocontinent and possibly a Sim Cluster. SLGI team has named it Paradox Microcontinent. Coordinates are 555-556/1180-1191, placing it inside Grid Sector E11, Far West Ocean.
The grid structure was first detected in March 2013, as a long microcontinent, stretching from South to North. Later, in April or May 2014, there were left only 5 unconnected sims. As SLGI team continued to scan the grid, in April 2015, the microcontinent was again reported to be online, but surprisingly, in June 2015, it was gone, only the same 5 unconnected sims were found.
Geography
Edit
The only survey was done in June 2015. It found land to be usually flat or with small slopes. Mountains were not found, but water was present. The largest land surface was set for sale or for rent. Inhabited land was used by a shop. Also, there is a track for motorbikes.
Sim Examples
Edit
MLCC
Twin Arrows
Death Valley
Elite Land
All the examples are sims that have survived when all the rest of the microcontinent was vanished.
Land Status
Edit
It looks like land is owned by a single estate. However, the fate of this grid structure is unknown, since over half of the surface is for sale or for rent and less then half is used. No access restrictions were detected.
See Also
Edit