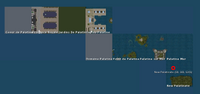 A238 is the temporary name of Palatine Microcontinent, a grid structure identified at Coordinates 531-537/1121-1123, Grid Sector E11, Far West Ocean.
It is not known when this microcontinent was formed, but it was detected by SLGI team only in June 2015.
Structure
Edit
The microcontinent is very long and sharp, consisting of only a very long straight of 9 sims. Because blue is the dominant color, detecting it as a continuous microcontinent is sometimes hard.
Geography
Edit
Public access is not allowed, except for the most Eastern sims, where majority of land is covered by water. A medieval fort could also be seen. Geographic data for the largest part of the microcontinent is unavailable.
Land Status
Edit
It looks like nearly all sims don't allow visitors to come.
Sim Examples
Edit
Coeur de Palatine
Cap du Palatine
Palatine sur Mer
New Palatinate
Land Status
Edit
Almost all land does not allow visitors to entry. Where access is possible, scripts are not allowed.
See Also
Edit