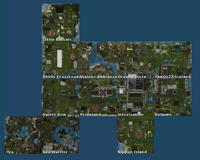 A269 is the transitory name of Ocean Pointe, a Microcontinent identified by SLGI team at Coordinates 708-712/1335-1338, Grid Sector G13, Northern Ocean.
The origins of this microcontinent are unknown.
Structure
Edit
It is made of 19 sims and has a slightly compact shape. It is a residential place.
Geography
Edit
The microcontinent is almost all flat. No spectacular Geographic features can be seen here. What is attracting people here, are the buildings. There are a lot of huge homes, with a lot of interior space and with much free land in front of them. Also, some buildings are surrounded by trees.
A network of roads allow visitors to pass through.
Land Status
Edit
Land is managed by a single estate company, who, most probably, has built all buildings.
Sim Examples
Edit
Devils Crossroads
Intoxication
FamOuZZ Iseland
Mya
See Also
Edit
Ad blocker interference detected!
Wikia is a free-to-use site that makes money from advertising. We have a modified experience for viewers using ad blockers

Wikia is not accessible if you've made further modifications. Remove the custom ad blocker rule(s) and the page will load as expected.