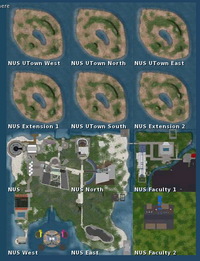 Nus (or A041) is a Microcontinent found at Coordinates 1000-1002/909-912, Grid Sector J9, Little Pacific Ocean, Estate Sea, West to Jeogeot.
Nus is the larges microcontinent West to Jeogeot. It appeared on some maps of Jeogeot. However, it was never listed as a distinct microcontinent until when SLGI team identified it in April 2013.
Structure & Geography
Edit
It is made of 12 sims. This place is owned by an university (a teen estate).
Unfortunately, access is forbidden, so there is no way to know much about its Geographic features.
Land Status
Edit
Access to public is forbidden.
Sim Examples
Edit
NUS UTown West
NUS UTown South
NUS Faculty 1
NUS East
See Also
Edit
Ad blocker interference detected!
Wikia is a free-to-use site that makes money from advertising. We have a modified experience for viewers using ad blockers

Wikia is not accessible if you've made further modifications. Remove the custom ad blocker rule(s) and the page will load as expected.