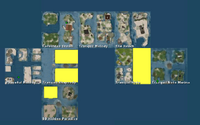 Melody is a proposed name for Microcontinent placed in Grid Sector J12, Northern Ocean, at Coordinates 1065-1069/1220-1222. It has the temporary name A189, given by SLGI team.
SLGI team discovered this microcontinent in 2013-2014 winter. Its shape did not change until August 2015. More surprisingly, even the internal structure did not significantly change. Even some of the same areas are for sale.
Structure
Edit
Melody is composed of 8 sims, with the following names: Forbidden Dream, Tranquil Melody, The Reach, Peaceful Melody, Tranquil Rhapsody, BB Hidden Paradise, Tranquil Note and Tranquil Note Marina.
Geography
Edit
All the sims are made islands, separated by large channels of Water. Altitude is low. All islands are made to look like Tropical Beach Paradise.
Land status
Edit
All sims belong to a single estate. Unfortunately, there is a lot of Unused Land for sale.
Sim Examples
Edit
Peaceful Melody
Tranquil Rhapsody
BB Hidden Paradise
Tranquil Melody
Ad blocker interference detected!
Wikia is a free-to-use site that makes money from advertising. We have a modified experience for viewers using ad blockers

Wikia is not accessible if you've made further modifications. Remove the custom ad blocker rule(s) and the page will load as expected.