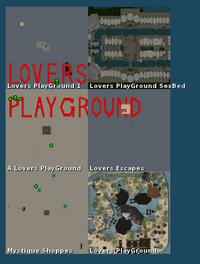 This Microcontinent also has the transitory name A104. Its Coordinates are 676-681/986-989. It can be found in Grid Sector F9, inside Far West Ocean, at its Eastern border.
When it was discovered by SLGI team (2013), it was made of 7 sims. A smaller part (Whispers sims) were connected only through corners. However, on July 2015, the Whispers sims have vanished and the Lovers part have lost a sim.
Structure
Edit
The microcontinent is made of 6 sims, creating a rectangle.
Geography
Edit
Lovers Playground is a large place with sex beds for testing and for sale. So, it is probably the largest multi-sim shop on the grid.
Sim Examples
Edit
Lovers PlayGround 1
Lovers PlayGround
Lovers Escapes
Lovers PlayGround SexBed
See Also
Edit
Ad blocker interference detected!
Wikia is a free-to-use site that makes money from advertising. We have a modified experience for viewers using ad blockers

Wikia is not accessible if you've made further modifications. Remove the custom ad blocker rule(s) and the page will load as expected.