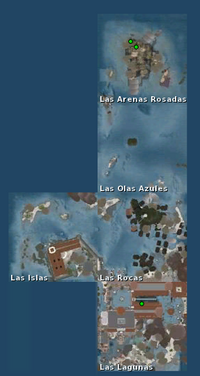 A283 or Las is a Microcontinent located at Coordiantes 721-722/927-930, Grid Sector G9, Western Ocean.
According to [www.gridsurvey.com Gridsurvey], creation of this microcontinent started around 2008.
Structure
Edit
It is made of 5 sims, placed almost in a row.
Geography
Edit
This is a Tropical Beach Paradise. All 5 sims host smaller or larger islands, sometimes with an inner lake. Tropical vegetation can be seen on their shores. Buildings are beach-themed. Altitude is low. In many places, water is not deep. The shiny sand can give a light blue color to sea water.
Land Status
Edit
Not all parcels are opened for visitors. Also, scripts are not allowed.
Sim Examples
Edit
Las Arenas Rosadas
Las Olas Azules
Las Islas
Las Lagunas
See Also
Edit
Ad blocker interference detected!
Wikia is a free-to-use site that makes money from advertising. We have a modified experience for viewers using ad blockers

Wikia is not accessible if you've made further modifications. Remove the custom ad blocker rule(s) and the page will load as expected.