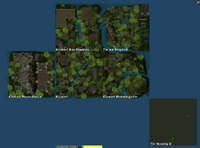 A019 or Kimset - Tir is a Microcontinent located at Coordinates 504-509/1059-1062, Grid Sector E10, Far West Ocean.
The microcontinent was discovered by SLGI team in spring 2013, when it had 11 sims. The name comes from the fact that all sims shared Kismet and Tir in their names. Until June 2015, it has decreased to 5 sims. Many of the vanished sims are from the Tir part of the microcontinent.
Structure
Edit
It is made of 5 sims, with a 6th one connected only through a corner.
Geography
Edit
It is a middle-age, Celtic themed place.
There is a variety of land, including flat plains, hills and mountains. Maximum altitude was found to be 86 meters, in far West, while the rest of land has much lower altitudes. Rivers are present and a complex system of roads allow access to the whole microcontinent, with bridges over the rivers. Vegetation is present. Grass covers the ground and many trees can be found all around.
Buildings are made of wood and stone. They vary from large castles to smaller wood buildings, all medieval.
Sim Examples
Edit
Kismet
Kismet Moondance
Tir na Brighid
Kismet Northwinds
See Also
Edit