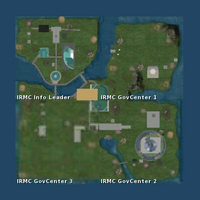 A364 is the transitory name for IRMC GovCenter, a Microcontinent located at Coordinates 1103-1104/1134-1135, Grid Sector K11, Eastern Ocean, A188 Sim Cluster.
Data from Gridsurvey shows that the microcontinent is old and was built in 2008.
Structure
Edit
The microcontinent is made of 4 sims and looks like a square.
Geography
Edit
Almost all land is flat. Still, a mountain exist. There are a few roads and a large conference room. Interesting buildings exist above ground.
Land Status
Edit
Almost all land does not allow scripts.
Sim Examples
Edit
IRMC Info Leader
IRMC GovCenter 1
IRMC GovCenter 2
IRMC GovCenter 3
See Also
Edit
Ad blocker interference detected!
Wikia is a free-to-use site that makes money from advertising. We have a modified experience for viewers using ad blockers

Wikia is not accessible if you've made further modifications. Remove the custom ad blocker rule(s) and the page will load as expected.