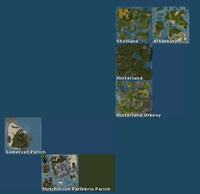 A070 is a grid structure is located at Coordinates 578-581/1272-1276, inside Grid Sector E12, North - West Ocean, was firstly made of two microcontinents. Currently, it decayed into a Sim Group with a Microcontinent inside.
First detected at the summer 2013 survey, the two microcontinents were very close and were considered to be part of a possible larger structure. The Northern one received name Hinterland, while the Southern one was named Iberia. They had a common temporary name, A070. Later, Iberia decreased in size and almost vanished. Hinterland also decreased, but still remained a microcontinent.
Structure
Edit
The Eastern microcontinent, Hinterland, is middle-age themed, with beautiful landscapes. The west one, Iberia, is more diverse and includes even urban landscapes.
In past, each microcontinent had 5 sims. Currently, Hinterland has 4, while the remnants of Iberia have 3.
Land With Restricted Access exists. Skyboxes exist too.
Sim Examples
Edit
Iberia Parish
Somerset Parish
Hinterland
Shetland
List Of Microcontinents And Sim Clusters