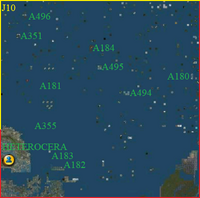 Grid Sector J10 is located at Coordinates 1000-1100/1000-1100, in Little Northern Ocean and Central Ocean. It is linked with Grid Sector J11 in North, Grid Sector J9 in South, Grid Sector K10 in East and Grid Sector I10 in East.
General Info
Edit
Structure
Edit
J10 is the oldest grid sector. First of all, it includes Da Boom, the oldest of all sims on the grid. It includes the oldest part of Sansara as well as part of Heterocera. The tow continents include nearly half of all sims.
In addition, there are many small microcontinents. An interesting fact is that the majority of microcontinents are small and compact, taking a shape that can reduce their contact with nearby sims. Majority of all microcontinents are very old, dating from the first time when private-owned sims were created. J10 hosts the highest number of small microcontinents.
No large-scale sim cluster exist.
The Unassociated Sims cover a significant part of the sector and have a low sim density. They can be divided into many small sim groups or sim cluster, but because separation borders are not so visible, SLGI team preferred not to.
An interesting aspect is the presence of Celebration Sea, a place used for Secon Life festivities. Sometimes, it can host a microcontinent, a sim cluster or a sim group (in June 2015, 16 sims existed there), but sometimes it can be nothing but Void Ocean.
Internal Grid Structures
Edit
See Also
Edit
List Of Microcontinents And Sim Clusters
Ad blocker interference detected!
Wikia is a free-to-use site that makes money from advertising. We have a modified experience for viewers using ad blockers

Wikia is not accessible if you've made further modifications. Remove the custom ad blocker rule(s) and the page will load as expected.