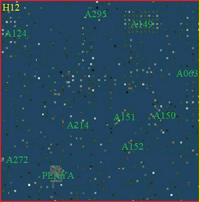 Grid Sector H12 is located at Coordinates 800-900/1200-1300, in Northern Ocean. It is linked with Grid Sector H13 in North, with Grid Sector H11 in South, with Grid Sector G12 in West and with Grid Sector I12 in East.
General Info
Edit
Structure
Edit
H12 can be divided in 3 major parts. In North, there are large and organized sim clusters, all with mathematical disposition and highly visible, incorporating all sims. In middle, there are also many sim clusters, but with far more diffuse structures, some of them resulted by regrouping of unassociated sims. In South, sim density is far lower and there are a lot of Unassociated Sims. Sim density is far greater in North and center then is in South. In addition, a few microcontinents also exist within the area.
The huge A063 Sim Cluster also has its own grid structures.
Internal Grid Structures
Edit
See Also
Edit
List Of Microcontinents And Sim Clusters