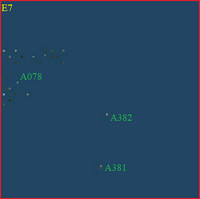 Grid Sector E7 is located at Coordinates 500-600/700-800 , in Southern Ocean. It is linked with Grid Sector E8 in North and with Grid Sector D7 in West.
General Info
Edit
Sim population: 40
Sim density: 0.4%
Void Ocean: ~85%
Sims inside grid structures: 100%
Structure
Edit
Like many grid sectors in Southern Ocean, E7 shows large areas covered with void ocean, while the existing sims are grouped into diffuse structures, shared with other grid sectors.
This is the place where No Access Continent was first spotted (see more details on Vanished Grid Structures).
Internal Grid Structures
Edit
See Also
Edit
List Of Microcontinents And Sim Clusters