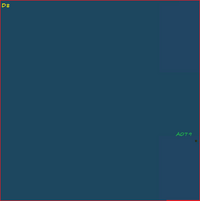 Grid Sector D16 is located at Coordinates 400-500/800-900 , in Southern Ocean. It is linked with Grid Sector D7 in South, Grid Sector D9 in North and Grid Sector E8 in East.
General Info
Edit
Sim population: 1
Sim density: 0.0%
Void Ocean: ~100%
Sims inside grid structures: 100%
Structure
Edit
There is only one sim, located close to East border: LoveCats Island, an Isolated Sim. All the rest is covered by Void Ocean.
Internal Grid Structures
Edit
See Also
Edit
List Of Microcontinents And Sim Clusters