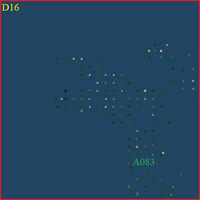 Grid Sector D16 is located at Coordinates 400-500/1600-1700, in Far North Ocean. It is the most Northern of all sectors. It is linked with Grid Sector D15 in South.
General Info
Edit
Sim population: ~70
Sim density: 0.7%
Void Ocean: 70%
Sims inside grid structures: 100%
Structure
Edit
The sim population is quite small, composed only by a tiny part of A083 Sim Cluster. The largest part of the sector (about 80%) is covered by Void Ocean. Even so, A083 has a small sim density.
There are no Unassociated Sims.
Internal Grid Structures
Edit
See Also
Edit
List Of Microcontinents And Sim Clusters
Ad blocker interference detected!
Wikia is a free-to-use site that makes money from advertising. We have a modified experience for viewers using ad blockers

Wikia is not accessible if you've made further modifications. Remove the custom ad blocker rule(s) and the page will load as expected.