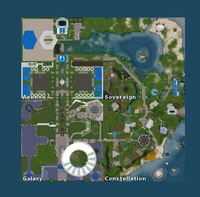 A305 is the transitory name given to Galaxy, a Microcontinent located at Coordinates, 834-835/1037-1038, Grid Sector H10, Western Ocean.
Since A305 is very small, it was not observed during surveys made by SLGI team. However, data from Gridsurvey shows that this microcontinent was created in March 2008.
Structure
Edit
A305 is also known as GFC or GalaxyFleetCommand. It is made of 4 sims placed in a compact square.
Geography
Edit
A305 has small hills and some water. Ground texture is green.
What is amazing here is the building style. All staff looks like it was brought from the future. All constructions are from a sci-fi era. There is a Monorail here, together with some stargates. It certainly deserves a visit.
Sim Examples
Edit
Sovereign
Aeon
Galaxy
Constellation
See Also
Edit
Ad blocker interference detected!
Wikia is a free-to-use site that makes money from advertising. We have a modified experience for viewers using ad blockers

Wikia is not accessible if you've made further modifications. Remove the custom ad blocker rule(s) and the page will load as expected.