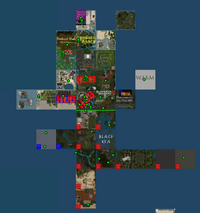 Freedom (also known as A038 as its transitory name) is a Continent located at Coordinates 750-758/1010-1019, Grid Sector G10, Western Ocean.
SLGI team gave this continent the transitory name C029.
It was first identified as a Microcontinent at the first survey managed by SLGI team in April 2013. At that time, it was made of 20 sims. Still, the official name was Freedom Continent. Later surveys showed that Freedom has slowly increased in size.
The survey of May 2015 revealed that Freedom has increased in size above 30 sims, the smallest amount a grid structure needs to be ranked as a continent. On July 11th 2015, there were counted 30 sims, with two additional sims in contact at their corners.
Statistical Data
Edit
Size in sims: 30 (9/10)
Size in km: 1.97 (2.30/2.56)
Sea sims (flooded with water): 0
Coast sims (with water access): 30
Land sims (no water): 0
Sims with road access: 30
Population density: high.
Structure
Edit
It is a very long and thin microcontinent. On map, it is very visible because it is very colored, with alternances of red and green. Large names are visible on map above many sims.
Geography
Edit
Geographic features are not so important. The buildings are.
This microcontinent is ranked adult and is more adult even then Zindra. It has adult hubs and big adult shops Some of the shops are large and ultramodern, while others are small. There is even a fair of adult items. Residential places are also present. In many places there are dark forests. As a bonus, young avatars (below 40 days) benefit of a free home with furniture. Population density is very high, mainly in hubs. There are many places for hangout.
Another interesting fact is the presence of many sky platforms.
There is no continental infrastructure. A number of roads and paths give access inside a sim or connect nearby sims. Walking is a good way to get from a place to another.
Themed Areas
Edit
It can be said that each sim is made for something. There are a few hubs in center, where newcomers can learn and find their ways. The rest of the continent is themed and includes Gorean Sims, roleplay sims, BDSM sims, places for sex,, places for dominant - slave relations, a place for pony girls and not only.
Land Status
Edit
Freedom is a champion when comes to Inhabited Land. Large surfaces are Inhabited Land. Ban lines and entity orb teleporters, if they exist, they are rare.
Sim Examples
Edit
Pattaya Island
Blacksilk Forrest
Blacksilk
Adult Hub
Klepios Valley
Gardens of Gor
Heartlight
Slaver Bay
See Also
Edit
Ad blocker interference detected!
Wikia is a free-to-use site that makes money from advertising. We have a modified experience for viewers using ad blockers

Wikia is not accessible if you've made further modifications. Remove the custom ad blocker rule(s) and the page will load as expected.