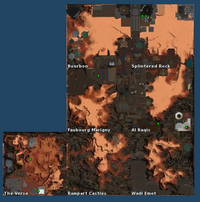 Desert or A184 is a Microcontinent placed inside Grid Sector J10, Little Northern Ocean, at Coordinates 1046-1047/1074-1077. It is North-East from Heterocera.
This place was first made to resemble Frank Herbert's Dune, a desert planet like Arrakis. Later, it received influences from earth-like places like the Taklamakan desert.
In spring 2014, when SLGI team discovered this microcontinent, it was made of 5 sims. In August 2015, 7 sims were reported.
Structure
Edit
It is formed of 7 dry sims and has an almost compact shape.
Geography
Edit
For a Geograph, these 7 sims are a real shock. Altitude varies up to unexpected hights. The highest measured point is 155 meters, one of the highest point on private-own land and higher then many continents.
Each sim is made of 3 different altitude levels. The center, with low elevation, is full of slopes and holes, sometimes hides ruins and sometimes it can host dangerous snakes. It has a yellow - orange color. Sand blows over and over. The middle-altitude place surrounds the center and has a red color. These are low mountains, still higher then majority of private-owned mountains. They host a high variety of buildings, majority of them are sci-fi themed and have an Arabic influence. The third level is composed of highly unaccessible dark-colored mountains, at the border of each sim. They are very difficil to climb, flying is a better alternative.
Skyboxes
Edit
If you decide to fly, you will find a lot of sky platforms and not only. Up in cosmos, there are planets and asteroids.
Land Status
Edit
This land is owned by a single estate. It is a placed made for roleplay. There is no Land With Restricted Access and harass is strictly porhibited.
Sim Examples
Edit
Splintered Rock
Faubourg Marigny
The Verse
Wadi Emet
See Also
Edit
Ad blocker interference detected!
Wikia is a free-to-use site that makes money from advertising. We have a modified experience for viewers using ad blockers

Wikia is not accessible if you've made further modifications. Remove the custom ad blocker rule(s) and the page will load as expected.