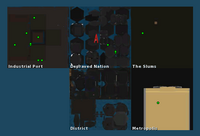 A321 is the transitory name for Depraved Nation (also an unofficial name), a Microcontinent discovered at Coordinates 900-902/1121-1122, Grid Sector I11, Little Northern Ocean.
According to Gridsurvey, construction of this microcontinent started around 2010.
Structure
Edit
A321 is made of 5 sims with an almost compact structure. It has a dark color on map.
Geography
Edit
The microcontinent hosts a large City. Despite the name, it is not a dark urban roleplay. It is not a roleplay area and does not exactly fill into the definition of Dark Sims. In fact, it is a large shopping area.
The city is made of streets, surrounded by high buildings. At the basement of each building, there are shops.
Sim Examples
Edit
Industrial Port
Depraved Nation
District
Metropolis
See Also
Edit
Ad blocker interference detected!
Wikia is a free-to-use site that makes money from advertising. We have a modified experience for viewers using ad blockers

Wikia is not accessible if you've made further modifications. Remove the custom ad blocker rule(s) and the page will load as expected.