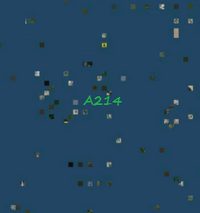 It was identified by the SLGI team as a distinct grid structure in 2014. At that time, it had 34 sims, with 8 more sims then it had in July 2015.
Structure
Edit
The sim cluster is composed of 26 sims, majority of them owned by the same estate. It has a very fast client service, so if you land on a parcel that is for sale or for rent, someone will immediately come to you. There are 3 sims linked together in North, the rest of sims look like placed in a random order.
Geography
Edit
Meadow shows a high diversity of terrains, from nearly flat parcels to elevated land, submerged parcels and mountains (used mainly to separate parcels). Ground texture is usually green, but it becomes sand-white near water. The high Geographic diversity is completed in some parts by a diversity of buildings.
Land Status
Edit
It looks like the largest part of land is owned by the same estate. Land With Restricted Access is present, under the form of sims without access and restricted parcels, but still there are many places that allow visitors to enter.
Sim Examples
Edit
Secret Cove
Moonlight Meadows
Serenity Meadows
Nightscape
See Also
Edit
Ad blocker interference detected!
Wikia is a free-to-use site that makes money from advertising. We have a modified experience for viewers using ad blockers

Wikia is not accessible if you've made further modifications. Remove the custom ad blocker rule(s) and the page will load as expected.