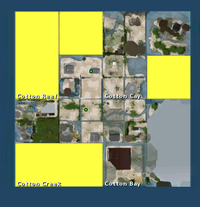 A315 or Cotton is a Microcontinent located at Coordinates 919-920/1248-1249, Grid Sector I12, Northern Ocean, inside A063 Sim Cluster.
A315 developed slowly, inside A063 Sim Cluster. It was listed in July 2015 as a microcontinent by SLGI team.
Structure & Geography
Edit
A315 is made of 4 sims and has a compact shape. It resembles a Tropical Beach Paradise. Ground texture is sand. Each sim is divided into 16 smaller parcels, each parcel is separated by water channels.
Land Status
Edit
Even if A315 is a compact structure, land is residential. Land With Restricted Access exists and so does land for sale.
Sim Examples
Edit
Cotton Reef
Cotton Creek
Cotton Cay
Cotton Bay
See Also
Edit
Ad blocker interference detected!
Wikia is a free-to-use site that makes money from advertising. We have a modified experience for viewers using ad blockers

Wikia is not accessible if you've made further modifications. Remove the custom ad blocker rule(s) and the page will load as expected.