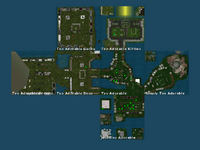 A268 is the transitory name given by SLGI team to Adorable, a Microcontinent located at Coordinates 722-725/1336-1338, Grid Sector G13, Northern Ocean.
The microcontinent existed and was reported by several Geographs. At the time when SLGI team was creating the List Of Microcontinents And Sim Clusters, a map restarting process prevented us from seeing some grid structures within the area.
Structure
Edit
The microcontinent is made of 7 sims, all sharing the word Adorable in their names.
Geography
Edit
Land is flat. There are almost no roads, in fact roads are empty spaces between buildings. All this microcontinent is a gigantic pet shop, where anybody can find a lot of breedable cats and related items.
Sim Examples
Edit
Too Adorable
Too Adorable Dreams
Too Adorable Gacha
Just Too Adorable
See Also
Edit
Ad blocker interference detected!
Wikia is a free-to-use site that makes money from advertising. We have a modified experience for viewers using ad blockers

Wikia is not accessible if you've made further modifications. Remove the custom ad blocker rule(s) and the page will load as expected.