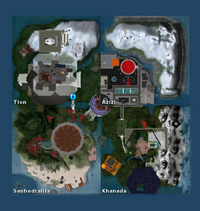 A351 is the transitory name of a Microcontinent located at Coordinates 1008-1009/1081/1082, Grid Sector J10, Little Northern Ocean.
Data from Gridsurvey shows that this microcontinent is old and was created in 2008. SLGI team identified it in August 2015.
Structure
Edit
A351 is made of 4 sims and has a compact shape.
Geography
Edit
A351 is an amazing place. For a Geograph, it has everything it needs to be ranked as one of the top destinations. There are mountains with Altitude rising up to 125 meters. In some parts, there are skilifts that climb up to the top. In other parts, there are mountain paths built for those who like adventures. In some places, at high altitude, Snow & Snowlands can be found. And above the mountains, there are other surprises.
In the sky, there are floating pieces of land, with their own buildings. Usually, they are flat.
There are many buildings on ground, some of them as high as the mountains. They don't belong to a single style.
Vegetation is also present and includes trees and grass.
Ground texture usually resembles grass, but it can resemble sand (at low altitudes) or snow (on the high mountains).
Land Status
Edit
All land belongs to a single estate. No access restrictions have been detected.
Sim Examples
Edit
Tlon
Sanhedralite
Azizi
Khanada
See Also
Edit
Ad blocker interference detected!
Wikia is a free-to-use site that makes money from advertising. We have a modified experience for viewers using ad blockers

Wikia is not accessible if you've made further modifications. Remove the custom ad blocker rule(s) and the page will load as expected.