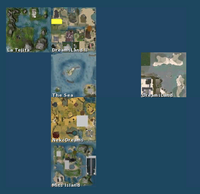 A317 is the transitory name of a Microcontinent located at Coordinates 922-923/1194-1197, Grid Sector I11, Little Northern Ocean.
A317 was identified by SLGI team in Summer 2015. It still has no official name.
Structure
Edit
As seen on the map, A317 is made of 5 sims, placed almost in a row. An interesting aspect is that one of the sims (DreamLands II) share a common name with a nearby sim (Dreamlands). This means that the estate managing the microcontinent has land in the nearby Unassociated Sims.
Geography
Edit
Many places resemble a Tropical Beach Paradise.
Each sim is different and unconnected by roads or paths to the other sims.
Mits Island is a place with tropical islands surrounding a shop.
NekoDreams hosts an Arabian oasis (see Desert Sims.
The Sea is a flooded sim with rare islands.
DreamLands II is divided into many tiny parcels.
La Tejita hosts a large island, with sandy beaches and a large house.
Sim Examples
Edit
La Tejita
The Sea
NekoDreams
Mits Island
See Also
Edit
Ad blocker interference detected!
Wikia is a free-to-use site that makes money from advertising. We have a modified experience for viewers using ad blockers

Wikia is not accessible if you've made further modifications. Remove the custom ad blocker rule(s) and the page will load as expected.