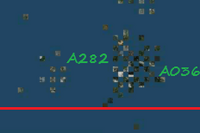 A282 is the transitory name of a Sim Group located at Coordinates 720-728/903-910, Grid Sector G9, Western Ocean.
It is not known when this sim group was created. In April 2015, SLGI team noticed about its existence. At that time, it was made of 9 sims. However, on July 7th, 2015, only 8 sims could be detected.
Structure
Edit
It is made of a core of sims with mathematical disposition (to form squares), surrounded by a few distant sims.
Geography
Edit
There are no or almost no mountains here.
Each sim is different. There are forests, parks, fortresses and shops. Many things are built in sky platforms. Also, there are places without access.
Sim Examples
Edit
iyuyu
Weir
Apollonian Empire
Anara
See Also
Edit
Ad blocker interference detected!
Wikia is a free-to-use site that makes money from advertising. We have a modified experience for viewers using ad blockers

Wikia is not accessible if you've made further modifications. Remove the custom ad blocker rule(s) and the page will load as expected.