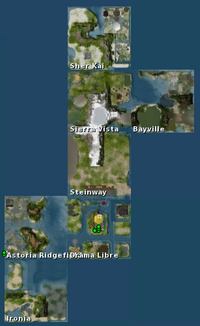 A255 is the temporary name gave by SLGI team to a Microcontinent found t Coordinates 680-682/1026-1030, Grid Sector F10, Western Ocean.
According to [www.gridsurvey.com Gridsurvey], at least parts of this microcontinent were created in 2009. However, SLGI team added it on the List Of Microcontinents And Sim Clusters only in June 2015.
Structure
Edit
A255 is a very long and sharp structure. It is made of 7 sims.
Geography
Edit
A255 is made of many islands, where Water covers between 20 to 70% of each sim. What makes it very different is the fact that Altitude is very high. Many islands have mountains and in many cases mountains are high, up to 90 meters.
Land Status
Edit
Land With Restricted Access was not detected. There are many protected waterways. Land is owned by a single estate.
Sim Examples
Edit
Sierra Vista
Drama Libre
Ironia
Bayville
See Also
Edit
Ad blocker interference detected!
Wikia is a free-to-use site that makes money from advertising. We have a modified experience for viewers using ad blockers

Wikia is not accessible if you've made further modifications. Remove the custom ad blocker rule(s) and the page will load as expected.