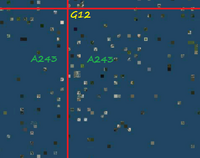 A243 is the transitory name of a Sim Cluster identified by SLGI team in June 2015, at Coordinates 695-732/1266-1295, Grid Sector F12 and Grid Sector G12, North - West Ocean and Northern Ocean.
Component sims from A243 existed a long time before SLGI team started mapping the grid in 2015, but since sim density does not differ much from surrounding areas, the sim cluster was not so visible at that time.
Structure
Edit
A243 is made of nearly 60 sims, majority of white color. They are only a little bit denser then the surrounding Unassociated Sims. The major difference is that sims inside A243 are usually of white color.
Geography
Edit
The average white color comes from the fact that majority of land is covered of sand, with islands, resembling a Tropical Beach Paradise As so, Altitude is not high. Vegetation is usually made of tropical plants. Stripes of land, water or vegetation are used to separate parcels.
Majority of buildings are beach houses, usually made of wood, but a traveler might find also other types of buildings, like an ancient temple.
Land Status
Edit
It looks like land is owned by a single corporation. Protected Land exists and is used to separate parcels. Land for sale was detected, also Land With Restricted Access exists.
Sim Examples
Edit
Groove
Fokus
Cove Isles
Brivida
See Also
Edit
Ad blocker interference detected!
Wikia is a free-to-use site that makes money from advertising. We have a modified experience for viewers using ad blockers

Wikia is not accessible if you've made further modifications. Remove the custom ad blocker rule(s) and the page will load as expected.