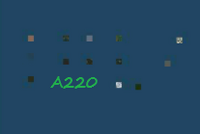 A220 is the temporary name of a Sim Cluster discovered at Coordinates 851-876/824-832, Grid Sector H8, Southern Ocean. It is a very diffuse sim cluster.
A220 was identified by SLGI team in spring 2014.
Structure
Edit
Even if its surface is big, it only hosts a bit over 13 sims.
Geography
Edit
These sims show major differencies, from middle-age themed places to giant shops. However, one thing is common to all: altitude is low. They don't have the same time and the same day length The lack of Geographic features (mountains, hills, rivers) is replaced in some places by vegetation. Not all are opened for visitors.
Sim Examples
Edit
Misthaven Point
Laniakea
Anango Isle
Lizi
See Also
Edit
Ad blocker interference detected!
Wikia is a free-to-use site that makes money from advertising. We have a modified experience for viewers using ad blockers

Wikia is not accessible if you've made further modifications. Remove the custom ad blocker rule(s) and the page will load as expected.