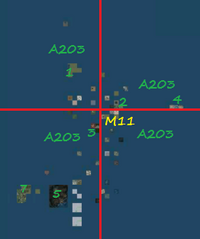 A203 is a Sim Cluster. Its Coordinates are 1290-1315/1180-1220, so it cannot fit into a single grid sector. It fits into Grid Sector L11, Grid Sector L12, Grid Sector M11 and Grid Sector M12. More simple, it is somewhere in Eastern Ocean, far away from the populated world.
In 2014, the sim cluster was made of 41 sims. At that time, no microcontinent was detected. In May 2015, things were completely different. The map showed presence of 8 microcontinents. At that time, there were 92 sims. Two of them vanished and a new one emerged from the void in August 2015.
Because this sim cluster shows massive variations in size and composition and internal microcontinents are short lived, SLGI team decided not to give them transitory names.
Structure
Edit
A203 is made of 41 sims. It consists of a few microcontinents and sim clusters:
Xing Microcontinent (NW) is made of 6 sims.
Central Microcontinent is made of 7 sims, with other 2 linked by a corner.
SW Microcontinent is made of 3 sims.
Product engine Microcontinent is made of 3 sims.
Barney Build Microcontinent consists of 20 sims.
Barney QA Microcontinent consists of 14 sims.
GF Barney Microcontinent consists of 9 sims.
In addition, other 34 sims exist inside the sim cluster.
Total = 99 sims.
Geography
Edit
Access is restricted to public, so no data is available.
Sim Examples
Edit
Jaided
Product Engine
Barney Build 3
Barney QA 10
See Also
Edit
Ad blocker interference detected!
Wikia is a free-to-use site that makes money from advertising. We have a modified experience for viewers using ad blockers

Wikia is not accessible if you've made further modifications. Remove the custom ad blocker rule(s) and the page will load as expected.