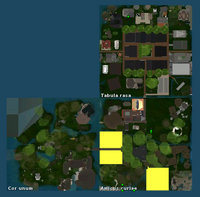 A191 is the temporary name of this Microcontinent. Its Coordinates are 1053-1055/1262-1264, Grid Sector J12, Northern Ocean.
A191 was discovered by SLGI team in spring 2014. At that time, it was made of 8 sims and almost formed a square. In winter, it was covered with snow. However, in July 2015, only 3 sims could be found.
Structure
Edit
A191 is made of 3 sims. Its sims have Lathin names.
Geography
Edit
It is a place for an art gallery of for an antiquity shop. Roads are present and allows you to enter every sim.
Sim Examples
Edit
Tabula rasa
Amicus curiae
Cor unum
See Also
Edit
Ad blocker interference detected!
Wikia is a free-to-use site that makes money from advertising. We have a modified experience for viewers using ad blockers

Wikia is not accessible if you've made further modifications. Remove the custom ad blocker rule(s) and the page will load as expected.