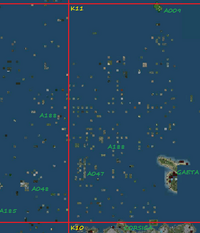 A188 is the temporary name of a Sim Cluster detected at Coordinates 1090-1148/1130-1174,Grid Sector J11 and Grid Sector K11, Eastern Ocean, West Gaeta Sea (close to Gaeta 1).
The first time when SLGI team decided to draw borders between seas and oceans, this area was listed as West Gaeta Sea. The name is still used today and describes a large part of A188 Sim Cluster. In 2014, based on new classifications, the area became part of Eastern Ocean (and a tiny sector, part of Little Northern Ocean). All existing sims were grouped into a large sim cluster.
Structure
Edit
Part of this sim cluster is made of sims with mathematical disposition (to create squares). Overall, it includes 225 sims (200 in Grid Sector K11 and 25 in Grid Sector J12). , more then Gaeta 1. Both its overall population and its population density are greater then Gaeta .
Internal structures:
A362 - Rumsey Maps 
A363 - TTU Libraries Microcontinent  
A364 - IRMC GovCenter Microcontinent 
A365 - University Idaho Microcontinent 
A366 - Gaia Rising Microcontinent

Geography
Edit
High Altitude is rare, more often land is smooth, plain or covered with hills.
Land Status
Edit
This sim cluster has many similarities with Unassociated Sims. There is a huge number of estates owning land in here. Interesting is that a high number of them are institutions (universities, medical institutions, research centers). Some of these sims have restricted access.
Sim Examples
Edit
ASCosta del Sol
Bentley South
Western University 1
Eyebeam Island
See Also
Edit
Ad blocker interference detected!
Wikia is a free-to-use site that makes money from advertising. We have a modified experience for viewers using ad blockers

Wikia is not accessible if you've made further modifications. Remove the custom ad blocker rule(s) and the page will load as expected.