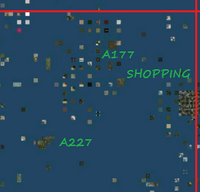 A177 is a Sim Cluster identified at Coordinates 1061-1082/968-995, Grid Sector J9, Central Ocean.
A177 was discovered by SLGI team in autumn 2013. At that time, it was made of 60 sims.
Structure
Edit
This sim cluster is East to Sansara and West to Shopping Continent. It is made of 60 sims. A177 has no mathematic distribution, sims are placed in a random distribution. There are a few very small microcontinents.
Geography
Edit
It is a very complex place, that includes places for games, unconventional residential areas and not only. In Homely Isle there is WW II Railway, part of a large World War II combat project, including many French and Nazi buildings.
Land Status
Edit
There are many estates in the area. It looks like a friendly place, almost all land has open access for public.
Sim Examples
Edit
Sunshine Bay
Gaialand
Games Planet
Magick
See Also
Edit
Ad blocker interference detected!
Wikia is a free-to-use site that makes money from advertising. We have a modified experience for viewers using ad blockers

Wikia is not accessible if you've made further modifications. Remove the custom ad blocker rule(s) and the page will load as expected.