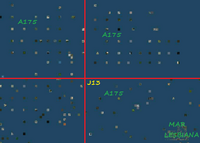 A175 is the temporary name of a Sim Cluster. A175 has the following Coordinates: 964-1039/1396-1430, so it doesn't fit into a single Grid Sector . A175 fits into Grid Sector I13 Grid Sector I14 Grid Sector J13 and Grid Sector J14. Also this means that A175 doesn't fit into an ocean, its sims are divided into Northern Ocean and Far North Ocean. It is close to the new Mar Lesbiana continent.
The first survey made by SLGI team in April 2013 ended with an error. A175 was identified as North Megacluster or A057. The error was corrected and distinct coordinates are now available for both sim clusters.
Structure
Edit
A175 is spread in 4 grid sectors. It consists of 44 sims in I14, 40 sims in I13, 40 sims in J14 and 23 sims in J13 (total = 147 sims). This is comparable with some of the largest private-owned continents. It has a mathematical distribution (sims are forming squares on map). There are 3 void sims between each sim, resulting in a sim density of 6%.
Geography
Edit
Majority of sims resemble a Tropical Beach Paradise. In most of cases, ground texture is sand, but there are also some exceptions. Depending from place to place, land can have various destinations. In most of cases, it is residential land, but also a traveler will find shops and clubs. Uninhabited Land is also present.
Land Status
Edit
There are many estates in the area, but it looks like one land corporation ownes the largest part of this sim cluster through multiple estates. Land of a sim is divided into larger parcels that are sold or rented to various residents.
Land With Restricted Access was detected: ban lines, entity orbs or sims without entrance to visitors.
Sim Examples
Edit
Elle Island
Bright Angel Cove
Manhattan Isle
majed Games
See Also
Edit
Ad blocker interference detected!
Wikia is a free-to-use site that makes money from advertising. We have a modified experience for viewers using ad blockers

Wikia is not accessible if you've made further modifications. Remove the custom ad blocker rule(s) and the page will load as expected.