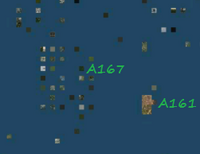 A167 is a Sim Cluster located at Coordinates 944-957/1038-1057, Grid Sector I10, Little Pacific Ocean, at equal distance from Heterocera and Caledon - Winterfel.
It was identified by SLGI team in spring 2014, together with A168 - Phoenix Sim Cluster and A169 Sim Cluster. At that time, it had 30 sims, the same amount found in July 2015.
Structure
Edit
It has 30 sims. It is small, but if we compare the size of Little Pacific Ocean to the large oceans, it is comparable with the large sim clusters in West. The sims offer a big diversity of landscapes, from rocky moutains to snowlands and from hill estates to tropical beaches. There is residential land together with comercial land and if you are lucky you can find impressive gardens and parks. A lot of pets can be found here too. Land is not owned by a single estate. Also, Land With Restricted Access exists.
Sim Examples
Edit
Deux Chevaux
Saar
EgOzy
Hanko
See Also
Edit
Ad blocker interference detected!
Wikia is a free-to-use site that makes money from advertising. We have a modified experience for viewers using ad blockers

Wikia is not accessible if you've made further modifications. Remove the custom ad blocker rule(s) and the page will load as expected.