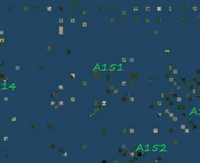 A151 is the name of a Sim Cluster located at Coordinates 820-838/1241-1259, Grid Sector H12, Northern Ocean.
When surveyed the area in late 2013, SLGI team found a Microcontinent that received the temporary name A151. It was still in the same place in 2014. However, the summer 2015 survey found a completely different situation. The microcontinent vanished and was replaced by a sim cluster.
When discovered, the microcontinent was made of 9 sims, but other sims were located nearby. It was most notable for its landscapes. There were dark forests full of mystery and rivers that need to be crossed. Ruins could be seen in places and they used to hide enigmatic texts. Castles were large and awaited you to explore their secrets.
Structure
Edit
In July 16th 2015, A151 was made of 27 sims. It is a sim cluster without mathematic disposition. Sims are sometimes in contact at their corners.
Geography
Edit
The dominant theme is Tropical Beach Paradise. Mountains, if they exist, are rare. Land is usually flat, with small hills or perfectly flat. Water exists and is used usually for decorative reasons.
Land Status
Edit
There is not a single estate in the area. The multitude of estates, combined with the fact that sims are placed at random, proves that A151 is a sim cluster created by Unassociated Sims that, through various processed became separated from the surrounding sims on the grid.
Sim Examples
Edit
Mayan Riches
Shadow Forest
Eclipse Falls
Serenity Meadows
See Also
Edit
Ad blocker interference detected!
Wikia is a free-to-use site that makes money from advertising. We have a modified experience for viewers using ad blockers

Wikia is not accessible if you've made further modifications. Remove the custom ad blocker rule(s) and the page will load as expected.