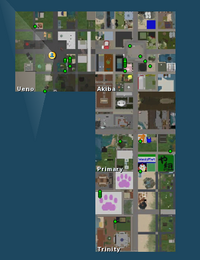 A145 is a Microcontinent that was once surrounded by a Sim Cluster. Its Coordinates are 877-892/1180-1193, Grid Sector H11, Western Ocean.
In late 2013, SLGI team found two microcontinents in the center of a sim cluster. However, in 2014, only one microcontinent was still detected, made of 6 sims and surrounded by 12 sims. In 2015, there were only 4 sims inside the microcontinent, while only 8 sims existed in the former sim cluster. So, the sim cluster ceased to exist.
Structure
Edit
The summer 2015 survey found the microcontinent to be made of 4 sims, 8 nearby sims remaining from the former sim cluster.
Geography
Edit
The microcontinent has a complex road system that divides its land into square parcels. Majority of these parcels are inhabited. Land is a plain with many slopes and even with small lakes. Road texture is different in every sim.
Sim Examples
Edit
Ueno
Akiba
Primary
Trinity
See Also
Edit
List Of Microcontinents And Sim Clusters
Ad blocker interference detected!
Wikia is a free-to-use site that makes money from advertising. We have a modified experience for viewers using ad blockers

Wikia is not accessible if you've made further modifications. Remove the custom ad blocker rule(s) and the page will load as expected.